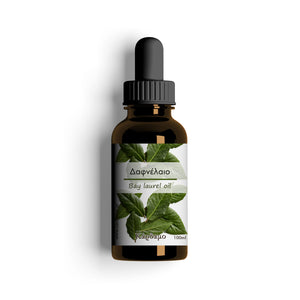 Laurus Nobilis
Country of origin: EU
Dropper bottle of 100ml
Bay laurel oil is one of the most popular oils used in the cosmetics industry. It has been used by men and women since antiquity. It is produced from the extract of bay leaves in olive oil. Its colour is light green and has a strong smell.
Bay laurel oil contains vitamins A and E. It is one of the best oils for hair since it contains oleic acid.
Bay laurel can be applied on the roots of the hair to treat dandruff, to moisturize the scalp and to stimulate hair growth. It has the ability to tighten the hair follicles and prevent hair thinning.
Bay laurel oil is an effective massage oil against muscular pains and joint pains caused by arthritis or rheumatism, thanks to its analgesic and anti-inflammatory properties.
The medical information on our website is not advice and should not be treated as such. You must not rely on the information on our website as an alternative to medical advice from your doctor or other professional healthcare provider.