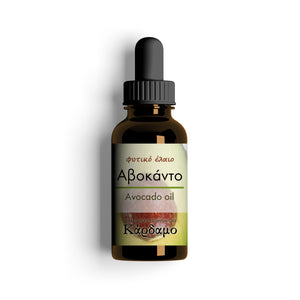 Percea Gratissima
Country of origin: EU
Dropper bottle of 30ml
Avocado oil is produced by the method of cold pressing the flesh of the fruit. It contains saturated and monounsaturated fatty acids, Vitamins A, B, C, D, E. It is an excellent carrier oil which has the ability to penetrate deep into the epidermis.
Avocado oil is rich in vitamin E and has anti-aging action, preventing the formation of wrinkles. It also shields and protects the skin from solar radiation. Avocado oil can be applied throughout the body, face and hair for moisturizing. It has the ability to soothe the irritated skin and relief from eczema, psoriasis and insect bites. The oleic and linoleic acid that the avocado oil contains, accelerate the healing process of wounds and protect it from entering pathogens.
Avocado oil softens, nourishes and moisturizes the hair. It stimulates the blood circulation of the scalp, by gently massaging it on the roots, and reduces hair loss. It also hydrates and repairs the damaged hair and prevents the formation of split ends. 
The medical information on our website is not advice and should not be treated as such. You must not rely on the information on our website as an alternative to medical advice from your doctor or other professional healthcare provider.