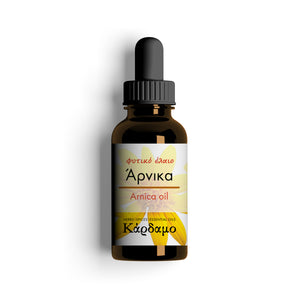 Arnica montana
Country of origin: EU
Dropper bottle of 30ml
Arnica liposoluble extract
Arnica oil comes from the extraction of the flowers of the plant called Arnica and has a light yellow colour. It contains amines, coumarins, flavonoids, triterpenoids and thymol which give this oil its anti-inflammatory and analgesic properties. 
Arnica liposoluble extract has a vasodilating action, facilitating the circulation of blood. It is an ideal oil for massage against aching joints and muscles. Arnica oil reduces swelling, joint pains and inflammation caused by osteoarthritis.
Arnica liposoluble extract is only for external use, and should not be used during pregnancy. It should not be used for long periods without interruption as it may causes skin irritation.
The medical information on our website is not advice and should not be treated as such. You must not rely on the information on our website as an alternative to medical advice from your doctor or other professional healthcare provider.