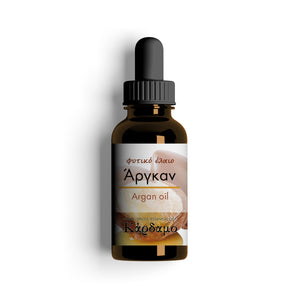 Argania spinosa
Country of origin: EU
Dropper bottle of 30ml
Argan oil is extracted from the kernels of the fruit of the argan tree which grows mainly in Algeria and Morocco. Argan oil has a non-greasy texture, nutty aroma and can be absorbed quickly by the skin. It is rich in vitamin E and contains oleic and linoleic acids.
Argan oil is considered valuable in cosmetology because it is very rich in vitamin E (10 times more than olive oil), vitamin A, antioxidants and phenols. It can reduce oxidative stress by eliminating the free radicals which are responsible for cell damage and premature aging of the skin.
Argan oil has an excellent anti-wrinkle action. It prevents the appearance of wrinkles, increases the elasticity of the skin and reduces age spots. It is also beneficial against stretch marks as it penetrates the epidermis and hydrates the skin.
Argan oil has anti-inflammatory properties and acts against acne, dryness, redness and skin irritation. It can also be applied to treat eczema and to accelerate the wound healing process. 
Argan oil can also be used to treat and repair damaged hair and split ends, thanks to the fatty acids it contains. 
The medical information on our website is not advice and should not be treated as such. You must not rely on the information on our website as an alternative to medical advice from your doctor or other professional healthcare provider.