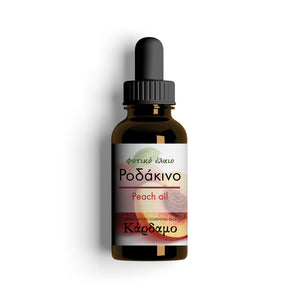 Prunus persica
Country of origin: EU
Dropper bottle of 30ml
Peach oil is produced by cold pressing the peach kernels or pits. The colour of the oil is pale yellow and has a light, non-greasy texture with a sweet aroma. It contains unsaturated fatty acids including oleic acid and linoleic acid and is rich in vitamins A, and E. 
Peach oil is an excellent oil for mature skin as it reduces oxidative stress caused by everyday exposure to environmental pollutants. The antioxidant properties of peach oil, eliminate the free radicals that cause cell mutation and are responsible for the premature aging of the skin and the formation of wrinkles.
Peach oil penetrates and hydrates the epidermis without leaving excess oil as it absorbs quickly. It can be used in combination with essential oils to create an amazing massage oil for dry skin to offer elasticity and nourishment. Peach oil can also be applied as a make-up remover. It is best used in combination with witch-hazel oil to cleanse and tighten the pores. 
Peach oil is beneficial for skin irritations related with dryness and itching, such as eczema and psoriasis. The fatty acids contained in it, help to soothe and soften the affected area.
The medical information on our website is not advice and should not be treated as such. You must not rely on the information on our website as an alternative to medical advice from your doctor or other professional healthcare provider.