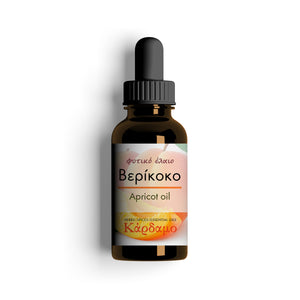 Prunus armeniaca
Country of origin: EU
Dropper bottle of 30ml
Apricot is produced by cold pressing the kernels of apricots. The color of the oil is light golden and its texture is light, non-greasy. Apricot oil is rich in carotene, vitamin C, calcium, iron, phosphorus. It also contains unsaturated fatty acids including oleic acid (60%), linoleic acid (30%), palmitic acid, stearic acid, vitamins A, C, E and K.
Apricot oil has antioxidant properties that fight oxidative stress and eliminate the free radicals that cause cell mutation and premature aging of the skin. Apricot oil penetrates deeply into the epidermis, detoxifies the skin, lock the moisture and prevents the formation of wrinkles, fine lines and age spots.
Apricot oil moisturizes without leaving grease on the skin. It cleanses the clogged pores, reduces sebum and balances oil production. Its light texture makes it ideal for oily, acne-prone skin. Its anti-inflammatory action prevents acne outburst related with excess sebum build-up. Apricot oil can be used to make a homemade scrub to remove impurities and leave the skin soft and radiant.
Apricot oil is beneficial for sensitive skin which results in dryness and itching. It is also beneficial for skin irritations such as eczema and psoriasis. The fatty acids contained in it, help to soothe and soften the affected area. 
Apricot oil can also be applied to relief tired eyes, reduce dark circles and soothe puffy eyes as it is easily absorbent and highly nourishing for the delicate skin around the eyes.
Apricot oil is also beneficial for hair, as it strengthens the hair follicles, repairs the damaged, dehydrated hair and prevents the formation of split ends. The fatty acids contained in apricot oil, moisturize the hair and stimulate hair growth. Apricot oil can also be massaged on the roots of the hair to lubricate the scalp and treat dandruff and dryness.
The medical information on our website is not advice and should not be treated as such. You must not rely on the information on our website as an alternative to medical advice from your doctor or other professional healthcare provider.