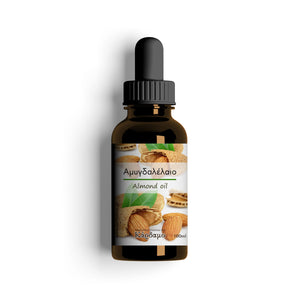 Prunus dulcis
Country of origin: EU
Dropper bottle of 100ml
Almond oil is one of the mildest and lightest oils and that makes it one of the most popular base oils for body, face and hair. 
Almond oil is rich in palmitic, oleic and linoleic acid and vitamin E. 
The greatest advantage of almond oil is that it moisturizes dry and sensitive skin. It cleanses and hydrates the skin as it penetrates deep into the epidermis. Daily use of almond oil can effectively prevent the formation of stretch marks during pregnancy. 
Almond oil can be used for removing makeup or as an excellent base to make your own diy makeup remover thanks to its cleansing action.
Vitamin E, contained in almond oil, helps to protect the skin from exposure to ultraviolet radiation, to reduce cell damage from the sun and to slow down the process of photoaging.
Almond oil can also benefit the scalp and the hair. The fatty acids contained in it, nourish and repair dry and damaged hair while preventing split ends. Almond oil reduces dry dandruff when applied to the scalp by gently massaging the roots of the hair.
The medical information on our website is not advice and should not be treated as such. You must not rely on the information on our website as an alternative to medical advice from your doctor or other professional healthcare provider.