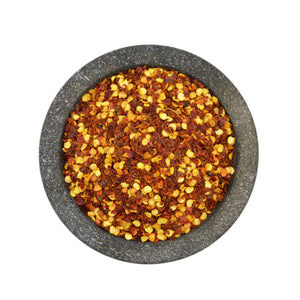 Capsicum annuum species
Country of Origin: EU
It contains artificial flavors
Paprika was first brought to Spain in the 16th century by Columbus after his grand voyage to America. Paprika was cultivated in North America and Central Mexico for centuries but the Spanish were the first who dried and ground the red fruits to make the spice we know today. Sweet paprika comes from sweet varieties of capsicums.
Sweet paprika flakes are produced by crushing and chopping the whole dried fruits of the capsicums, including the seeds. In Greece, it is called sweet ''boukovo'' and it is used to season soups, sauces, and marinades. In northern Greece hot ''boukovo'' is preferred to make food spicy and pungent. This particular seasoning is processed and contains artificial flavors that offer a smoky aroma.
Sweet smoked paprika flakes is an excellent spice to be added raw on top of the dishes, at the end of the recipe, as overheating makes it a bit bitter. It can be used to season soups, such as lentil soup and bean soup. It can be added in dishes with chicken, pork and beef as well as dishes with grilled and oven-baked vegetables and potatoes. Sweet smoked paprika flakes can be added on top of white cheese, like feta cheese. It also enhances the taste of  tomato sauce and pickled cabbage. It can also be added in sausages, kebabs and meatballs prior to cooking. 
Sweet smoked paprika flakes combine best with greek oregano, greek thyme, garlic powder, ground turmeric, onion powder, saffron, ground cumin and ground cardamom.